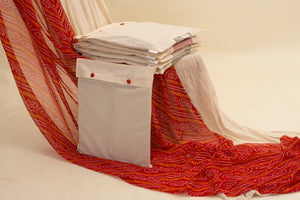 Introducing
Ethnic Edition
Cotton Saree Bags
Benefits of Aprudha Cotton Saree Bags
Helps Declutter your wardrobe
These cotton saree bags can be used to keep any clothes. Whether it's a saree, bedsheets, winter gear, or even dresses and hefty lehengas.
Protects your sarees from Dust and Humidity
Dust and humidity are our silk sarees' worst enemies. If your sarees are constantly exposed to dust and humidity, they lose their unique luster and brilliance. this age-old approach is still quite beneficial.
Give long life to your silk sarees
Have you ever discovered a little hole in your Silk sarees? That's because your sarees were exposed to moisture for an extended length of time. Save your heirlooms or precious Pattu saree.
See what our Customers have to say
Thank you ❤️
The sarees from my wedding time are all packed away. Will be ordering more bags. 

- Raja Rajeshwari

Los Angeles, CA
The bags make it really easy to keep cupboards neat! It's really worth buying

- M Bannerjee

Los Angeles, CA
Very happy with your
saree bags. Now my wardrobe looks fabulous.

- Debrati Roy

Los Angeles, CA
Thank you sooo much to you and team Aprudha. You exactly designed what I visualised, took pains to design & execute an order to perfection. I'm sure my daughter is going to really enjoy this. Thanks once again.

- Minakshi Gupta

Los Angeles, CA
Hi! I love your brand.

Saree bags are awesome, my wardrobe looks neat. Love to buy more.

- Priyanka Maheshwari

Los Angeles, CA
Why choose Aprudha pure cotton saree bags
Aprudha is well-known for its high-quality products and excellent customer service. As the first firm to introduce pure cotton saree coverings, we now have over 40000 plus satisfied customers. We are glad to claim that we were the first company to formalize this concept and that we are still the market leader in saree storage.

Our fabrics and bags have been carefully selected and designed. We take great care in selecting fabrics and designing our bags. We were already in the saree industry, so we were aware of the sizes and other issues associated with storing sarees. And this aided us in developing the ideal storage for sarees

These bags are not made in factory, but we get it hand stitched by underprivileged women. Hence generating the employment opportunity for women.

Aprudha brand is run by women, and it is designed to solve women's difficulties. After all, a woman knows just what our fella women are looking for.