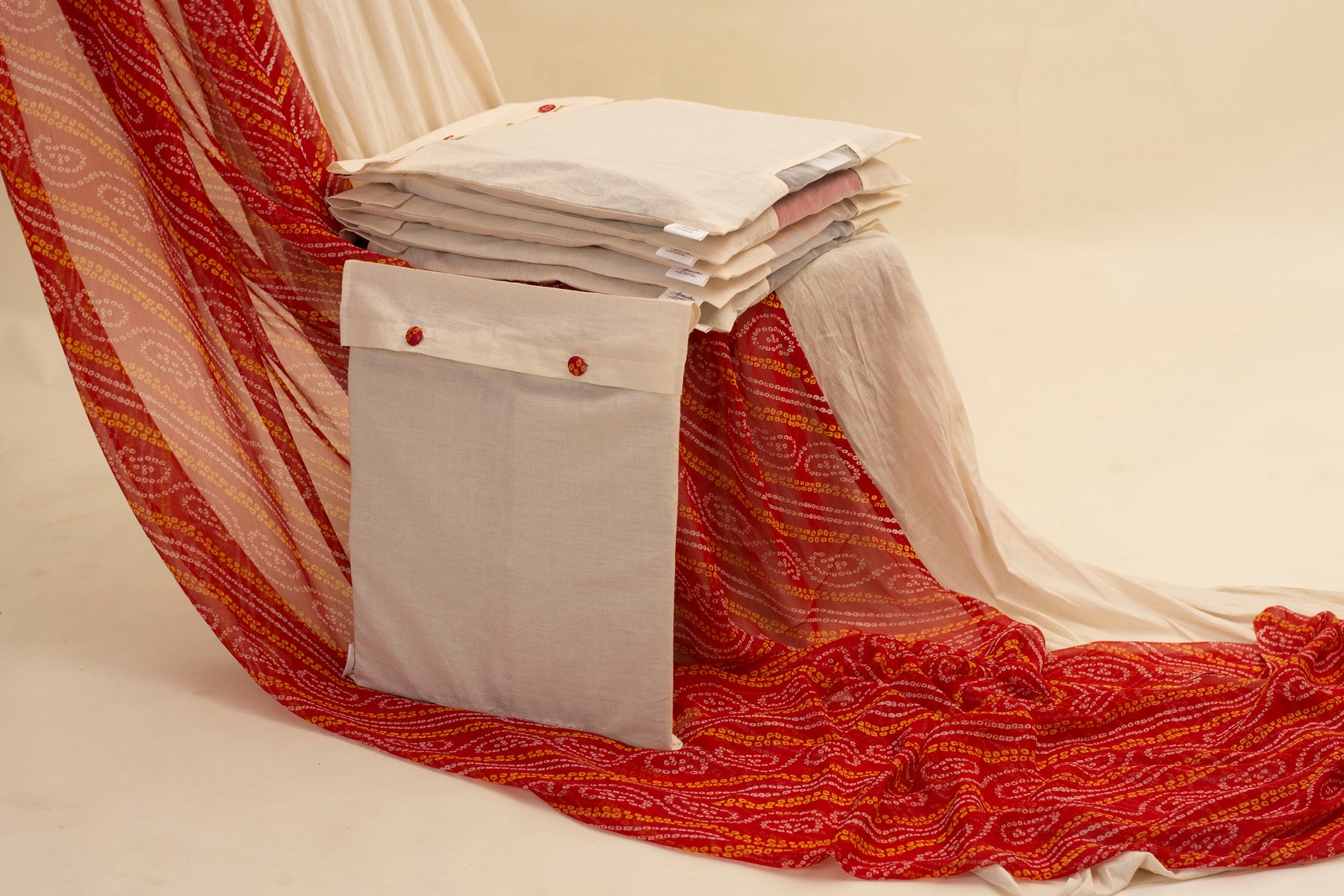 Say hello to our latest Ethnic collection Saree bags
With a new style of "Khidki"
Saree bags designed to make your wardrobe look neat and store 10 to 12 sarees
Introducing Ethnic Edition Saree Bags
Designed to make your wardrobe look even more organized
Pack of 2
Aprudha Multi Saree Bags - Ethnic Edition
Aprudha Multi cotton saree bags provide an elegant way to declutter your saree wardrobe. Each bag can store around 10-12 sarees (depending on the fold and fabric of the sarees) these sleek bags don't take much space in your wardrobe. They look really neat & cute in your closet. Use it to group your precious saree collection.
Pack of 6
Aprudha Single Saree Bags - Ethnic Edition
Aprudha Single saree bags - Ethnic Edition designed to keep your daily wear sarees, comes with a smart transparent window which gives you easy accessibility to what is kept inside apart from protecting them from dust & humidity. Made from the purest of all fabrics.
PRESERVE YOUR SAREES
They are a living heritage
Treasure your timeless drapes Breathable - Keep away dust & humidity - preserve the agelessness of your sarees - declutter your wardrobe - Durable & minimalistic design.
Read the article by Sweta Anand, CEO and Founder of Aprudha - How women across India are moving towards Eco friendly saree bags.
Do you know, Our clothes hold a piece of our soul
Do you believe in both positive and negative energy? Have you ever noticed that by wearing specific attire, your mood improves? While another pair made you anxious and dull. It's because even our clothes contain energy. Clothe Color, fabric, and how it is washed and stored all have a big impact on how you feel when you wear it. Make sure to wash your clothes in soft detergent. Iron it properly and store it in cotton bags. So next time please don't suffocate your sarees/cloth by storing it  in plastic bags  use pure cotton bags to fold and store it in yogic way.
Thank you ❤️ The sarees from my wedding time are all packed
away. Will be ordering more bags.

- Raja Rajeshwari
The bags make it really easy to keep cupboards neat! It's really worth buying.

- M Bannerjee
Thank you sooo much to you and team Aprudha. You exactly designed what I visualised, took pains to design & execute an order to perfection. I'm sure my daughter is going to really enjoy this. Thanks once again

- Minakshi Gupta
Hi! I love your brand.

Saree bags are awesome, my wardrobe looks neat. Love to buy more.

- Priyanka Maheshwari
Very happy with your saree bags. Now my wardrobe looks fabulous.

- Debrati Roy
Unique
collection gives a graceful look to ethnicity.

- Akshaya Khardenvis